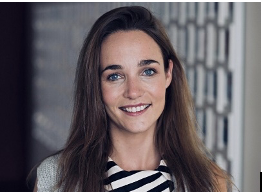 The Ark Gala will feature Gwen van de Pas, a child sexual abuse survivor who directed 'Groomed,' a feature-length documentary on the subject.
BOARD OF DIRECTORS
Sister Milagros Tormo, M.J.M.J.,
   President
Margaret S. Villarreal,
   Vice President
Rene Esquivel,
   Chairman
Sandra S. Hartensteiner-Worst,
   Secretary
Luis A. Elizondo
Sharon Bailey Murphy
Diego Navarro
THE ARK GALA 2023
Brenda Ramos
Chairperson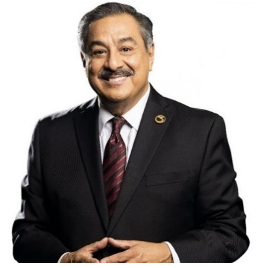 KIII TV-3 News Anchor
Rudy Treviño, The Ark Gala master of ceremonies
March 2023
Dear Friend:
The Ark Gala 2023 marks the fundraiser's return to the Richard M. Borchard Regional Fairgrounds after a three-year absence due to the COVID-19 pandemic. The Ark Assessment Center and Emergency Shelter for Youth's gala, normally held annually, begins at 6 p.m. Thursday, Sept. 21.
Your generous support will help to ensure that the highly anticipated event to be held at 1213 Terry Shamsie Boulevard in Robstown is successful.
KIII TV-3 News Anchor Rudy Treviño will be the master of ceremonies. The program will include silent and live auctions, dinner and keynote speaker Gwen van de Pas, a child sexual abuse survivor who directed a feature-length documentary on the subject.
Can you sponsor a table at one of the following levels: The Ark ($15,000), Stork ($10,000), Dove ($5,000), Giraffe ($2,500) or Leopard ($1,000)? All of them seat 10 and offer signage, recognition at the gala and newsletter/website thanks.
To secure recognition of your charitable contribution in our printed program at the event, we need your commitment or payment by Aug. 31. Tax-deductible gifts for the auctions are needed by Aug. 31. Auction donors will receive signage at the auction. Contact us as soon as possible so we can reserve your table. (Individual seats cost $60.)
The agency is licensed by the Texas Health and Human Services Commission to provide assessment services and emergency shelter for 61 children and youth, ages 0 through 17, who are removed from their homes due to abuse or neglect by a parent or guardian. The Ark has served more than 4,375 minors since admitting its first resident on April 7, 2000.
The gala's proceeds pay for services that make a difference in the children's lives at the facility.
Monetary donations of any amount can also be made online at the agency's website: www.ark4kids.com
Thank you for considering assisting the shelter. We look forward to hearing from you.
Sincerely,
Delma Trejo                                                          Sister Milagros Tormo, M.J.M.J.
Executive Director/Administrator                     Board President
Puente De Maravillas Foundation prunes nutritional deficits
A generous Puente De Maravillas Foundation grant reduced nutritional deficiencies in abused and neglected children living at The Ark Assessment Center and Emergency Shelter for Youth during a six­-month period.
The grant purchased groceries to feed the residents three complete nourishing meals per day (including entrees, vegetables, starches and dairy), desserts, snacks and drinks approved by the state.
Although nearly all of them were nutritionally deficient upon their arrival, paring down their shortcomings called for more than merely buying food. The children's needs required the staff to teach them things they should have learned from their parents, like training young ones how to use eating utensils so they wouldn't eat with their hands.
A child is allowed to eat with his or her fingers the first couple of days following admission. After that, the youngster spends mealtimes one-on-one with a staff member for a couple of days. First, the resident is fed with a spoon. The next step requires the staff member's hand to be placed over the child's hand that is holding a spoon. That is followed by observing the youngster using the utensil on his or her own that also includes the monitoring of portions consumed. It takes a resident two to three weeks to master the use of eating utensils. Through practice, a little one transitions from drinking out of a sippy cup or a bottle to a cup.
Most of the children were malnourished. Incredibly, those with that condition routinely stare at their food for long periods as if they don't know what to do with it. They hadn't developed healthy eating habits because their parents didn't reinforce the importance of eating nutritiously. That's often the case when parents are seldom home due to other priorities. If a youngster isn't used to eating properly, it's hard for him or her to hold down food due to diarrhea, stomachache, constipation, etc., but it usually goes away after the first week or two of residency at the shelter.
The residents learned the importance of consuming three daily nutritious meals and snacks, which promote healthy eating habits and improve general health.
Incentives were used to gradually accomplish the goal of getting them to eat those meals and snacks. They had to try foods that were new to them – at least one spoonful. A disliked healthy food could be substituted for another healthy food.
The children were told things like "spinach and squash will make you stronger," "carrots have vitamin A that helps with eyesight" and "milk has calcium that makes bones and teeth stronger." Those that didn't like meat could eat peanut butter, which – like meat – has protein.
Eating healthily decreased their nutritional deficiencies. The residents gained a normal or healthy weight, denying poor nutrition the chance of limiting their memory development and affecting the rest of their lives. After the weight correction, they looked as normal as other healthy youngsters. They reached their proper developmental stage, prompting positive changes that caused them to exhibit signs of improved general health and giving them a better chance of reaching their potential.
The Puente De Maravillas Foundation's generosity is deeply appreciated.
The TND Family Foundation funds upgrades
Improvements at The Ark and the Mount Thabor Convent are expected to last for years, thanks to a grant from The TND Family Foundation, which funded the following:
Three Dell laptop computers will provide early childhood educational activities to children as young as prekindergartners (ages 3 and up), serving as an introduction to a learning environment in a fun way. The programs can be accessed by touching the laptop keys. The facility's Wi-Fi was upgraded, enabling the laptops to operate at a dining room table, in a bedroom or outdoors.
Preschoolers at least 3 years old will start school in August wearing new pull-ups, clothes and shoes. The purchase of a front-loading Speed Queen washer and dryer large enough to clean and dry comforters ensures the children will have clean apparel at school or anywhere else.
Prior to this grant, the Missionary Sisters of Jesus, Mary and Joseph sometimes had to wait a long time before someone would be available to open the Mount Thabor Convent Community Room's windows installed in 1980. It was difficult for senior citizens or those with physical limitations to open them.
Many sisters will benefit from the six replaced windows that now easily open and close. They're better emotionally because they're no longer frustrated by unsuccessful attempts to open the windows. They're more confident after being able to open the windows. Morale has improved, even for a sister with deformed fingers who can now open a window. Allowing fresh air into the room also improves health conditions and reduces energy use.
Much gratitude goes out to The TND Family Foundation for its benevolence.
Dedicated to the late Rev. Msgr. Robert E. Freeman, P.A. 12960 Leopard Street, Corpus Christi, Texas 78410 • Phone: (361) 241-6566 • Fax: (361) 241-5279 • Email: jcardenas@ark4kids.com

Volume 20, Issue 1, December 2022                                                           
Visit our website at www.ark4kids.com

Children await Santa Claus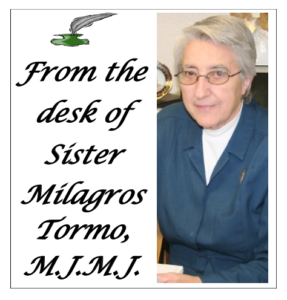 Dear friends and donors: One more year I have the privilege of communicating with you through my column before Christmas. Christmas is an opportunity for people to celebrate and share this special time of the year. I always say the best gift you can have during the holidays is to be with your family. Children however, wait here every day for Santa Claus to take them Christmas presents. It's amazing to see their innocence as they fantasize while awaiting Santa. They're the same emotions that arise if they're living at home or in our family-like environment. As soon as the Thanksgiving celebration is over, we decorate The Ark inside and out because we want our children to have an enjoyable memory of the holidays separated from their families. We create a Nativity scene with a river, enabling them to see and hear the running water. Lights make the scene alternate between night and day in 90 seconds. Before the COVID-19 pandemic, Santa visited the children, and Mrs.

Shelter 'surviving' with community's donations
The Ark Gala set to return Sept. 21, 2023
If Delma Trejo, The Ark's executive director, had to describe the shelter's financial health in one word, it would be "surviving." The nonprofit agency lost approximately $450,000 after needing to cancel The Ark Gala for the past three years due to the COVID-19 pandemic. That's why the staff is looking forward to holding the next gala on Sept. 21, 2023 at the Richard M. Borchard Regional Fairgrounds in Robstown. Income from the Texas Health and Human Services Commission (HHSC) has decreased because it has sent less children to the facility. However, it's been the community's generosity that has kept the shelter fiscally afloat. "Donations have helped us to be able to survive," said Trejo. The monetary contributions have assisted in paying for the residents' new clothing because used children's apparel donations are not being accepted. Food is another of the expenses taking a bigger bite out of available resources. Food costs are 12.4 percent higher than a year ago. The Ark's Second Online Silent Auction held April 17-21, 2022 produced a net profit of $44,441. After expenses, the Third Online Silent Auction held Sept. 4-8, 2022 raised $22,432. A heartfelt thank you goes out to the silent auction item donors, bidders and everyone else who helped with those events, as well as the agency's following major donors from Nov. 3, 2021 through Oct. 31, 2022:
Please see SURVIVING below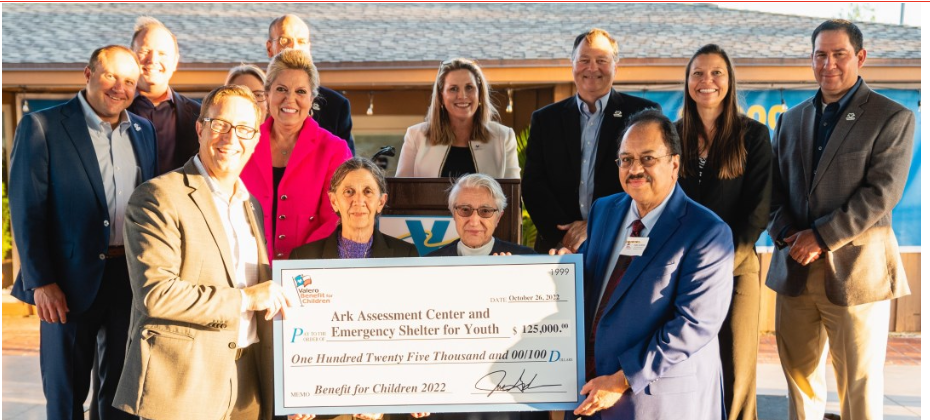 Kevin Lassahn, vice president and general manager of Valero Corpus Christi Refineries (foreground at left) presents The Ark representatives with 2022 Valero Benefit for Children's $125,000 award. Also pictured are members of the Refinery Leadership Team. The gift approved by the Valero Corpus Christi Refineries Charitable Contributions Committee will pay for items essential to meeting the children's needs at the shelter, such as groceries, clothing, shoes, diapers, diaper rash ointment, bed linens, bath towels, comforters, bibs (toddler snaps), and various cleaning, kitchen, paper and pest control products.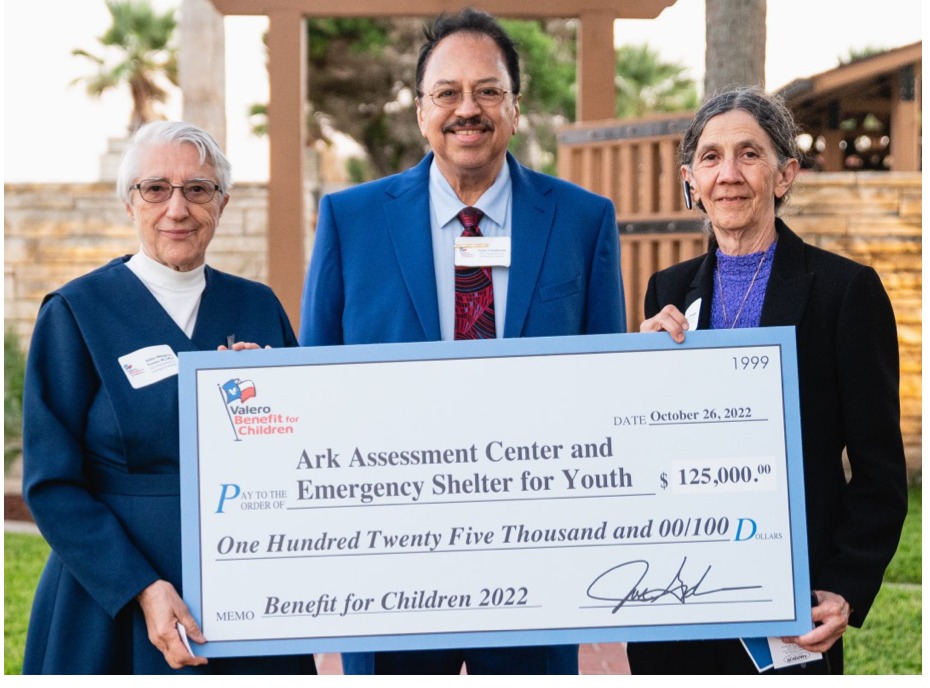 Representing The Ark were Sister Milagros Tormo, M.J.M.J., board president (left to right); Juan Cárdenas, administrative assistant/director of development; and Delma Trejo, executive director/administrator.
SURVIVING from above ————————————————-
Legamaro Financial Services Inc., 2022 Valero Benefit for Children, 2021 Coastal Bend Day of Giving, Anonymous, The John G. & Marie Stella Kenedy Memorial Foundation, Valero Corpus Christi Refineries, PNC Bank (in recognition of service to BBVA USA by former BBVA USA advisory board members Daniel Brown, Vance Dawson and Wayne A. Lundquist), 
   Diocese of Corpus Christi (Texas State Council Charities of the Knights of Columbus distribution), Cheniere Foundation (2021 Cheniere Employee Giving Fund), John Doherty, Frazier Family Foundation Inc., Scott H. and Shannon P. Hans, Patty P. Mueller, Ray and Betty Boazman, Nueces County, Celanese, Jose R. Bustamante Jr. and Maribel E. Martinez, St. Joseph Catholic Church-Beeville, 
   Alamo Concrete Products Company, Avion Takes Action Fund, Community Foundation of Greater Huntsville, Mirabal Montalvo & Associates LLC, Kevin Neri, Debra Richter, Michael E. Rektorik, Katherine West, Lisa Harris, Kathleen Bailey, Heart and Soul Resale Shop, Donna Rae, Nolan and Ellen Culp, St. Patrick Catholic Church, Luciano Salazar, 
   William E. Wise and Marilyn G. Johnson (in memory of Rev. Msgr. Robert E. Freeman P.A.), Morrison Insurance Group PC, Most Precious Blood Catholic Church, Lyondell Chemical Company, SLH Business Solutions LLC, John D. and Dorothy Drew, Diocese of Corpus Christi (donors: Michael E. and Carolyn Colwell), Monica Gomez, Most Rev. Wm. Michael Mulvey STL D.D., Hayden J. Peairs, Johnny and Christi Perales, Michael Volker,
   Walmart #05-09000, Warren B. Young DMV and Laura Young, Corpus Christi Pain Medicine — Gabriel Lopez M.D. and Angelina R. Lopez, Grace
Ford Powers, Children's Clinic (in honor of Steven Oshman M.D.), E.J. and E.A. Rotter, Blanche Davis Moore Foundation, Gloria Stella Garcia-Sandoval, William Marin, Paul Crutchfield, Paul Peeler, Brenda K. Hammons, Prosperity Bank, Anne C. Hawes, Joseph Diou, John and Karen Harris, Publicity-shy donors, Norman and Katelijne Acker, Betty Black, Camacho Recycling, David Cook, D.F. and C.C. Deline, Diocese of Corpus Christi, Daniel W. Doucet, Dugan Family Foundation, Eluterio Farias, Gulf Spray Company, Anthony and Jacqueline Hein, Roberto Hernandez, Christine Hinojosa, Allyson Larkins, Noe Lira M.D. and Thelma Lopez-Lira M.D. P.A., LULAC Council #1 Toy Bowl, Mallory Health, NuStar Foundation, M. Owens and M. Cropper Owens, Mark and Leeanne Pearl, Prime Real Estate, Antonio Vera and Jesusa Sanchez-Vera, and Gary and Nancy Weber. 
SANTA from above
Claus helped him distribute the presents. Christmas carolers added to the merriment. They were wonderful experiences for our children and very emotional ones for the adult participants. 
   In addition to sharing these moments with you, I would like to wish you a very blessed Christmas and a happy new year on behalf of the executive director, employees and board. You and your family will be in our special prayers in front of the baby Jesus asking him to bless your family in 2023. 

The Ark Assessment Center and Emergency Shelter for Youth
is pleased to be one of the nonprofit agencies that will benefit from the
Coastal Bend Day of Giving on Tuesday, Nov. 8, 2022.
Give online Nov. 8, and your donation will double!
Thanks to generous South Texas matching funders, local charities receive matching funds for financial gifts of $10 or more donated online via major credit/debit cards (VISA, MasterCard, Discover, American Express) or eChecks at www.coastalbenddayofgiving.org on the 14th Coastal Bend Day of Giving.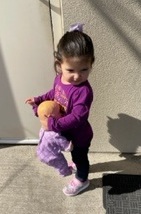 Contributions will be accepted at that website Nov. 8 from midnight through 11:59:59 p.m. the same day. Monetary gifts to the Ark Assessment Center and Emergency Shelter for Youth or another nonprofit providing basic needs will be matched dollar for dollar up to $24,000 per agency. Website gifts are processed by an online donation facilitator. A site administration fee applies to all donations. A credit card processing fee is charged. Processing and transaction fees apply to eChecks. Cashier's checks, brokerage checks and money orders are not accepted as eChecks. Donors receive an email receipt for tax purposes. Registrants have access to the site for tax information. Donors need to use their billing address as their address when registering or checking out of the website.
Contributions can be scheduled for "Early Giving" payment/processing Oct. 31 through Nov. 7.
On Nov. 8, your help means so much more. Every dollar benefiting abused, neglected and displaced children at the Ark makes a difference. Ten dollars pays for a three-piece body suit and pant set. To donate that day, log on to www.coastalbenddayofgiving.org − a dedicated website that makes it a quick, easy and secure process. While you are there, please see the Ark's profile, including a Coastal Bend Day of Giving video below.
12960 Leopard St.
Corpus Christi, Texas 78410