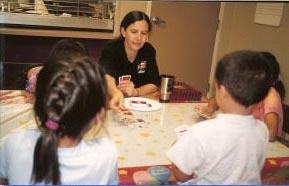 The Ark's staff is a group of 32 dedicated individuals: those who work directly with the children, as well as additional ones handling other duties necessary to the shelter's operation.
The child-care staff has had extensive training in child care and is certified to give cardiopulmonary resuscitation (CPR) and first aid. It takes a unique individual to care for The Ark's residents, and each must have the proper knowledge to handle any situation. Child-care providers are divided into groups, each of which has a team leader. The employees work rotating shifts to help take care of the children. They are like second parents, just as the shelter is a second home to the residents. A sufficient number of employees are required to staff the shelter during its hours of operation: 24 hours a day, seven days a week.
All employees and prospective volunteers undergo background checks.
The volunteers are highly valued because of the roles they play, whether working directly with the children or in other capacities.
The Ark has full-time job openings for case workers
The Ark Assessment Center and Emergency Shelter for Youth, a 24-hour facility, has full-time job openings for case workers to work the graveyard shift. Direct care supervision. Must be bilingual, at least 21 years old and have 18 months' child-care/mental health experience, Infant and Adult CPR, TB test, First Aid certification and a high school diploma or GED. Clear criminal background required by TX DFPS. Salary DOE. To apply, take your driver's license and Social Security card to The Ark at 12960 Leopard Street, Corpus Christi. For more information, call (361) 241-6566. Equal Opportunity Employer
12960 Leopard St.
Corpus Christi, Texas 78410